How To Make Money On YouTube Your YouTube video organically crossed ten thousand views and received a LOT of positive feedback from viewers. The exposure and fanfare from this first hit have made you curious.

You're thinking:

Is it genuinely possible to make money on YouTube?

Do you have enough "talent" to deliver another hit video?

Can you generate enough revenue to make a living through YouTube?

The answer to all of the above questions is, most probably, a resounding YES.

But wait:

Aren't you going to compete with thousands of professional musicians, filmmakers, media houses, and small businesses?

Yes, you are.

(Every video creator wants a slice of the attention of the 2 billion logged-in monthly users on YouTube!)

But you only need to find your tribe of true fans who will LOVE the videos you create.

In this article, I'll share fifteen effective ways to make money on YouTube. They include both simple and advanced strategies. But you can make money even if you have a low production budget and no expensive gear. Heck, your videos don't even need to go viral.

Note: This article contains affiliate links. This means if you sign up for any product using my link, then I earn a commission (at no extra cost to you). I only recommend products that I enjoy. I appreciate your support.

Before we look at the first legitimate way to generate revenue from YouTube, I want to share an important note.
How To Make Money On YouTube
Want To Make A Living From YouTube? Don't Rely On Adsense!

The most straightforward way of making an income through YouTube is monetizing the video viewership of your channel with advertisements. That's how media houses function.

But I'll share how to make money from the YouTube Partner Program (YPP) in the end.

Why?

Relying on advertisements is a weak monetization strategy, given that YouTube stars with 1.4 million monthly viewers also end up earning less than $17k a year. The platform has also started strictly monitoring content and demonetizing videos that are inappropriate for advertisers.

If you want to make a decent income on the video hosting platform, make a mindset shift. Treat your YouTube channel as a brand and build a business on top of it with multiple income streams.

You can share products from brands you love, sell your merchandise and products, or license the creative assets on your channel.

With that in mind, below is the first way to make money on YouTube without AdSense. I've organized each monetization strategy based on their difficulty and relevance for different kinds of creators — mix and match the ones that make sense for you and your YouTube channel.

1. Offer Video Editing Services

Who's it For: All kinds of video creators

Difficulty: Easy to Intermediate
As a YouTube creator, the first lucrative skill with market demand is video editing — given you've been doing it for your own videos.
Numerous brands continue debuting their new channels, so offering them a concierge YouTube video editing service could make you a decent amount of money. I've personally paid over $500 hiring professionals to put together my raw footage into polished YouTube videos because editing seems tedious to learn.
But video editing requires specialized expertise, consumes time, and requires creativity to ensure the information flows well and keeps the viewer engaged. If you create video sketches regularly for your channel, they will improve your skills — while also elevating your portfolio.
To find clients, your network is a great place to start because they might already be aware of your YouTube channel and the quality of your videos.
Pitching to local businesses where you live is also a great bet. You can tell them how YouTube aids discoverability and can help them get more business — besides building their brand.
Lastly, you can try freelance marketplaces such as Fiverr, Upwork, and Freelancer to get your first few clients.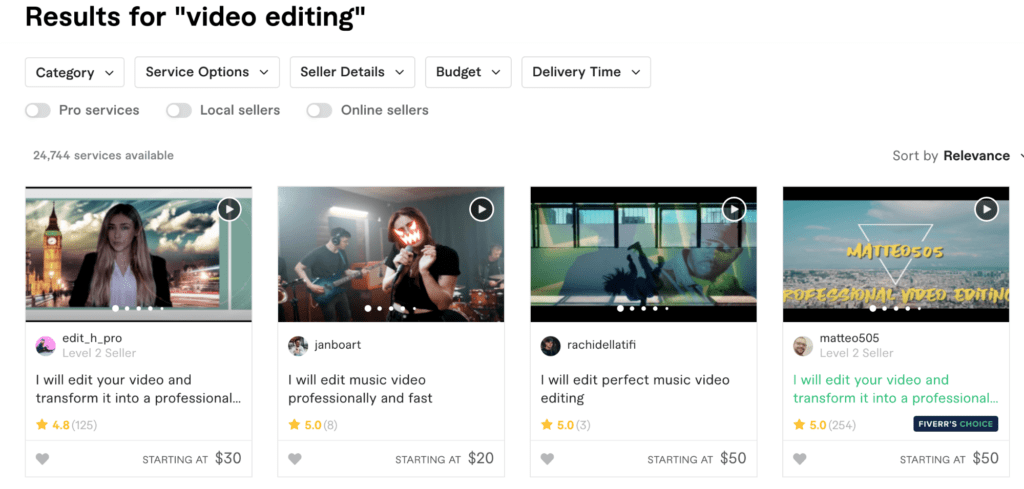 At these platforms, you can even offer packages depending on the components of video editing you will take care of including color correction, color grading, adding transitions, sound design, subtitles, video run time, and the like.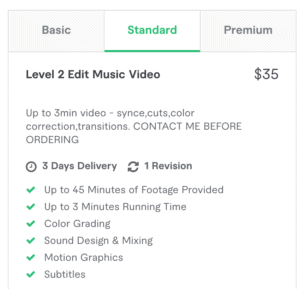 If you like offering video editing services, then consider the first few freelance jobs on these marketplaces as valuable professional experience. But walk away from them ASAP because gigs tend to pay less and the competition is fierce.
2. Become An Affiliate And Review Products
Who's it For: All kinds of video creators
Difficulty: Easy
Getting a sponsorship could require a large subscriber base. But you can still associate with brands and earn commissions by reviewing their products that are relevant to your audience.
It requires signing up for their affiliate programs — many have a low bar for entry. Then promoting them by sharing your unique affiliate link in your video description. Staying transparent with your audience is key here so you don't affect your relationships with them.
For instance, Channel Junkies shared their genuine review of TubeBuddy, a YouTube growth tool. Their audience is realtors with a YouTube channel. So Jackson, the channel owner, shares tips on how the software could grow the channels of his subscribers.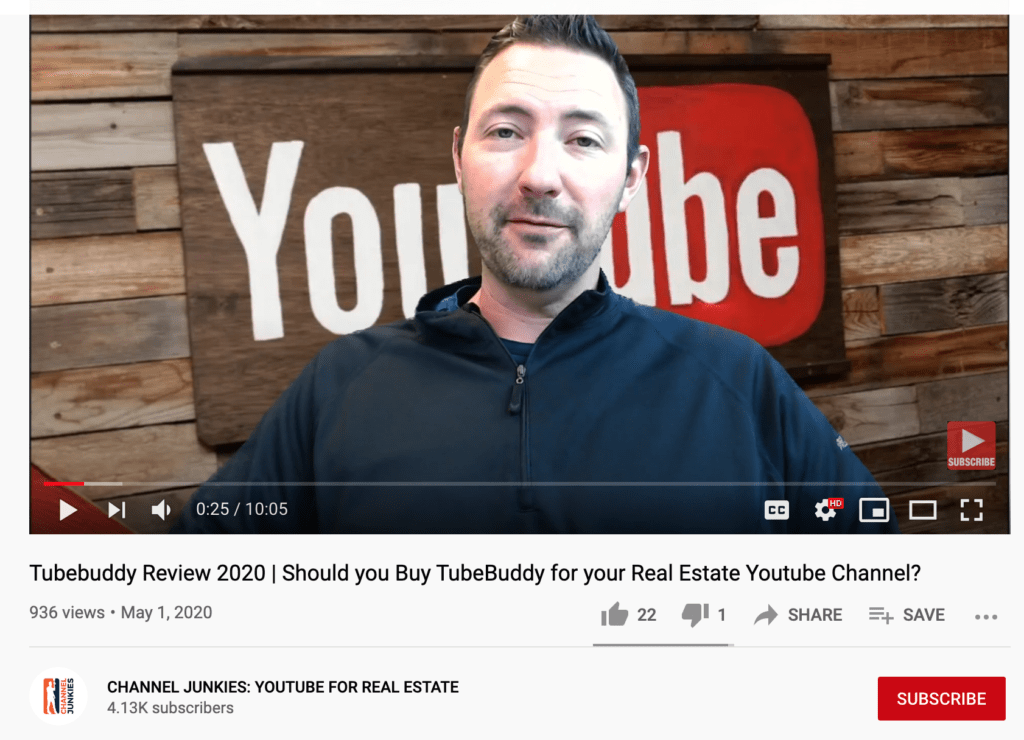 Towards the end of his review, Jackon spells out the affiliate link and tells the viewers it's available in the video description. He also shares that he's on their $19 plan, along with a disclaimer stating that the link shared is an affiliate one which gives him a commission.
Here's his video description sharing TubeBuddy affiliate links: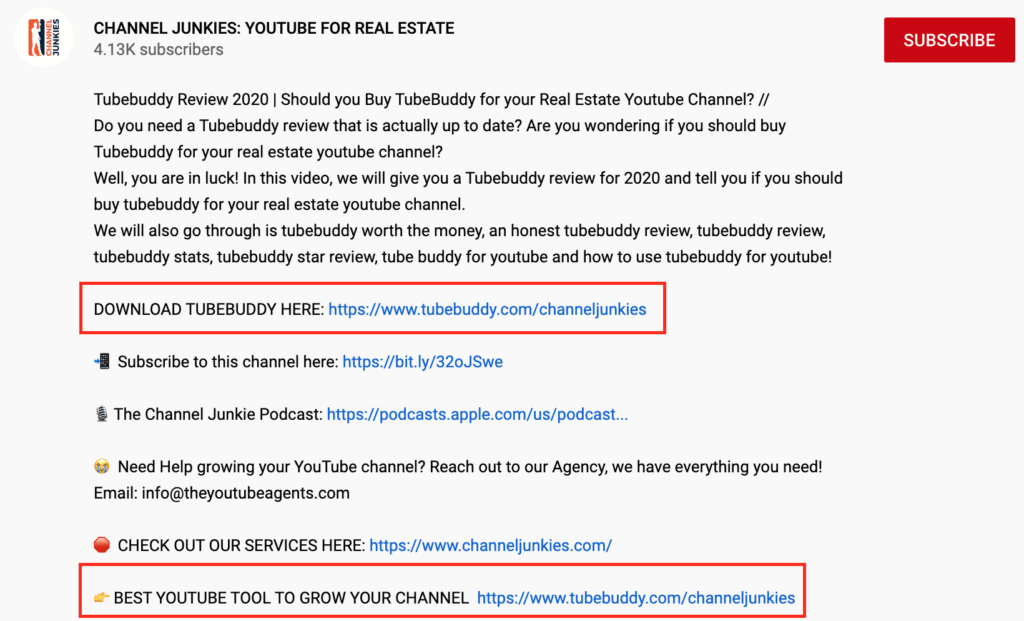 Jackson even uses his channel art banner image and one of its links to promote a TubeBuddy free 30-day trial.

Now there are three aspects to affiliate marketing you need to remember.
Disclose Your Affiliate Relationships
An empirical study of 500k YouTube videos found that merely 10% of videos contained written disclosures of participation in affiliate relationships.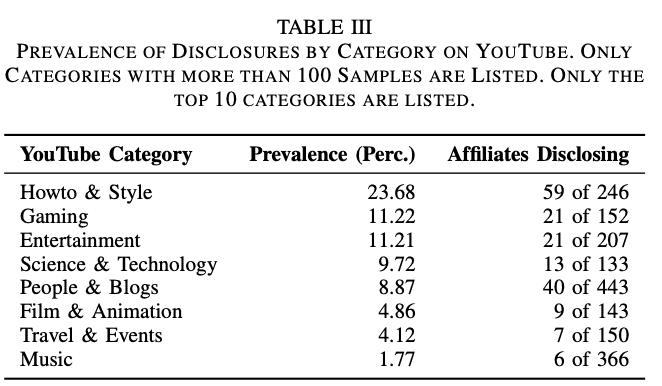 If you're creating videos for kids, then you can land in even more troubled waters. Ryan Kaji, the highest earning YouTube creator for 2019, was accused of including a paid product recommendation in at least 90% of their videos.
Abiding by the FTC guidelines is key to not become a part of future crackdowns and to remain in the good books of your audience. Ideally, your viewers should know you're getting financial incentives for your endorsements. It ensures they give your review only requisite weightage before making a purchase.
Prefer Programs With Recurring Commission
Living in the subscription economy, you might already be paying companies — such as Netflix — every month for their products.
What if you can get paid every month for recommending such products as well?
Recurring affiliate programs provide such an opportunity. They let you earn an income as long as your referred visitor remains a customer of the company. Examples of companies offering such commissions include Demio, GetResponse, and SEMRush.
Speak From Personal Experience
There's enough "researched information" curated from third-party sources about most kinds of products.
So, create an unbiased and authentic review based on your experience of using a product. Such a recommendation will genuinely help the consumers make a buying decision, and thereby help you make more money.
Authority Hacker, a company that creates video training for internet marketers, regularly reviews products for their audience. They put in the effort of trying out every service as visible in the video below: